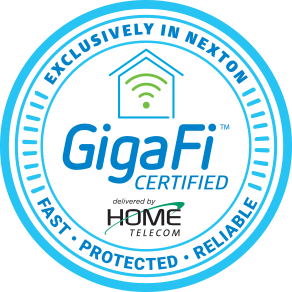 GigaFi is Ready for the Future
It's time to raise the bar again to ensure the GigaFi internet network is ready and Nexton remains the most technologically advanced community in the region. GigaFi is ready for the future and as a Nexton business or resident you can rest assured that your internet service will always be prepared to handle the next big thing
What is GigaFi?
Super-fast cloud storage makes your data more secure and easier to manage

Smart Home Technology allows you to control your home via a computer or Smart mobile device. These types of systems are designed to improve energy use, safety, comfort and convenience

Content creation gets a huge boost with the capacity for multiple, simultaneous HD video streams

Delivered by Home Telecom, exclusively at Nexton.
For over a century, Home Telecom has been delivering innovative technologies and exceptional service to residential and enterprise customers throughout the Lowcountry. GigaFi is just the latest example of Home Telecom's commitment to the people and the prosperity of South Carolina.
Just how fast is 2 gigabits per second?
It's over 80x faster than the average internet connection. But GigaFi is more than fast. It's an open door to entirely new ways of advancing your business, staying connected through lighting fast internet speeds, and streaming the latest media on your home's smart devices.
See the Difference Gigabit Speed Makes
(click on an icon to compare speeds)

90 Minute HD Movie (10 GB)

*Demo speeds increased for comparison, actual results may vary
SC's Finest
In early 2013 the FCC issued the Gigabit City Challenge, encouraging every state in the country to have at least one community where gigabit broadband service is available to everyone. With GigaFi, Nexton becomes South Carolina's first gigabit community, and South Carolina becomes the 21st state to meet the FCC challenge.